Product Overview
4" Blades, carbon steel, notched, sharp side and dull side. Blunt edge for rough work or vinyl floors, razor edge for scraping smooth surfaces and removes material buildup from hard floors.
Ships in Cartons of 10 Dispensers of 10 Blades each (100 Blades Total per Carton). Made in Germany-top quality and last longer!
Compare to Ettore no. 20291 or Pulex no. PXR00305 or Unger no. RB10C Bulk Pricing Available.
Use with the 8", 13", or 51"Handle for Window/Floor Scrapers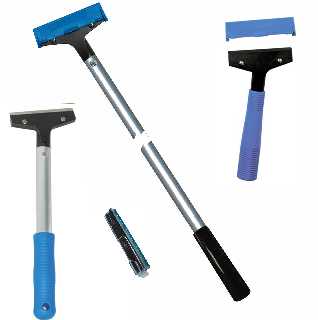 8" Scraper w/ 4" Blade 13" Scraper w/ 4" Blade 51" Scraper w/ 4" Blade
Reviews