Product Overview
Scraper for Floor and Window with Rigid Plastic Handle, includes the 4" Blade & Blade Cover. 8" Overall length.
Uses reversible carbon blades here on this website: 4" Steel Replacement Blades in Dispensers of 10 Blades
Blunt edge for rough work or vinyl floors, razor edge for scraping smooth surfaces and removes material buildup from hard floors.
Handle attaches to all telepoles with cone adapters for window wash equipment.
Minimum Order: 2 each 8" scrapers per order.
Compare to Ettore no. 1995 or Pulex no. PXR01510 or Unger no. SH00C
These scrapers available: 8", 13", or 51" Handle for Window/Floor Scrapers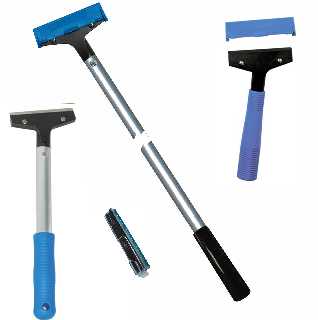 13" Scraper w/ 4" Blade 51" Scraper w/ 4" Blade 4" Steel Replacement Blades in Dispensers of 10 Blades
Reviews