How To Disinfect Against Coronavirus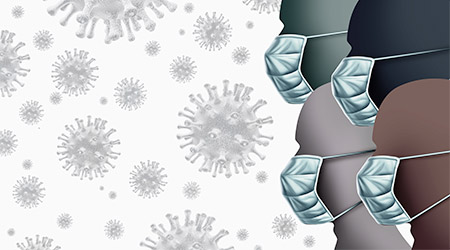 Like always, every great disinfection routine must start with cleaning. To properly carry out this process, Green Seal suggests janitorial workers:
1. Clean surfaces using a detergent or general-purpose cleaner to remove soils and organic matter.
2. Rinse the surface with water after cleaning
3. Disinfect according to directions placed on labels. Since COVID-19 is an enveloped virus, janitorial workers need to follow directions on how to kill these enveloped viruses. Disinfectants need to be left wet on a surface for the entire dwell time suggested before being wiped up.
Those wishing to disinfect using an environmentally-friendly product should consider this list of recommended products from the United States Environmental Protection Agency (EPA).
Green Seal recommends using disinfectants with the following ingredients, as they are believed to be less harmful to allergies and overall human health:
- Hydrogen peroxide
- citric acid
- lactic acid
- isopropyl alcohol
- ethyl alcohol
Spring News Letter
Mopping Equipment and its Slow History of Innovation
1906 - 11909 Patents issued for wringers employing 2 wood press boards against the mop.
White, Davis and McNeal all awarded patents for variations of this design.
White, Davis and McNeal were all awarded patents for variations of this design.
Some of these variations:
Next, in the late 1960's CMC introduced a plastic bucket called Fibrolene to FINALLY replace most metal Buckets. The '70's brought Rubbermaid and CMC with further refinements of this plastic equipment.
About this same period, Europe was pioneering Flat Mops and Microfibers.
....Drum Roll Please...AIM, a supplier to Click introduced in 2019 their answer to the shortcoming of the traditional "Century Old" concept of bucket and wringer.
AIM's Commercial Centrifugal Spin Mop.
Of Course It Cleans the Floor! But other advantages come to mind like safety (Dryer Floors), Ergonomic-Less Labor to achieve better results. Cost: much less, Period!
Carousel Commercial Mop System, 35 Qt. Bucket, Trolley & Micro Mops | Click Janitor Supply